Over the course of my career, I've produced over 100 pieces of content for consumer, small business, and enterprise audiences, ranging from long-form blog posts to infographics to Facebook videos.  
Instead of listing them all out (because that would be boring), I've decided to highlight the best examples that showcase my range, how I think through different problems, and the results I can produce.
My philosophy: Whether it's a series or a one-off asset, content should be treated like a product—conceived with a "go-to-market" plan, created with care,  shipped with intention, and focused on an outcome for both the target audience and your business.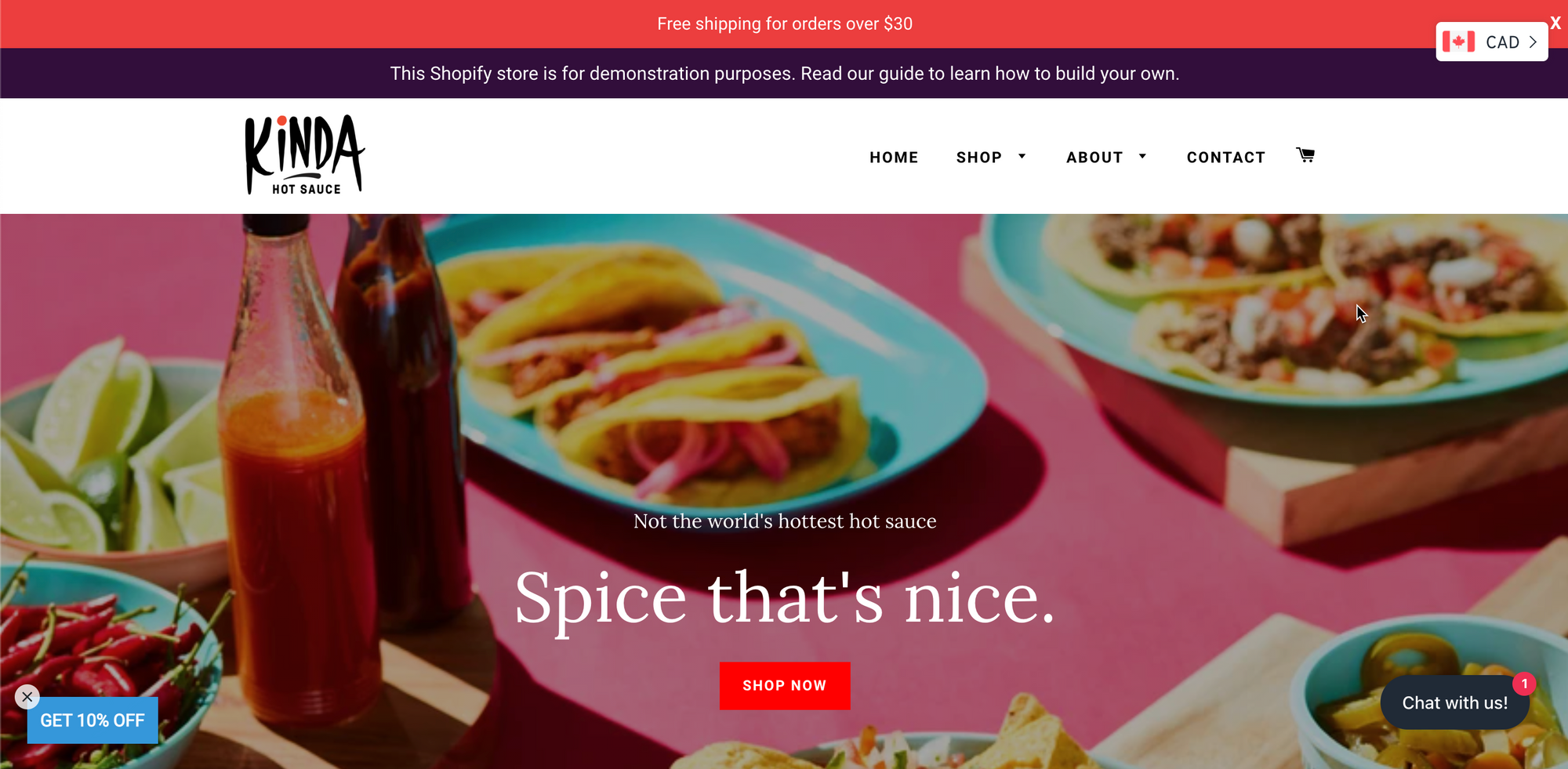 Highly impacts assets with long-term value 📈
I think a lot about shelf-life and "always-on" distribution beyond just SEO. I like to make content that will be valuable in the long term.
The Shopify store setup guide is my best example of this.
Shopify's help documentation provides step-by-step store setup instructions, but I saw an opportunity to create a comprehensive guide that showed off how to bring an actual business idea to life on Shopify.
I came up with a fun, hypothetical business selling mild hot sauces, covering product naming, SEO, prices, and all the aspects of starting an online store a merchant would need to consider. I worked with a talented designer on the branding and product mockups, and built the store from scratch myself, along with a comprehensive step-by-step guide to accompany it.
Result: This single piece of content brought in over 700 customers in H2 of 2020. The demo store KindaHotSauce.shop has since been repurposed for other marketing initiatives (ad creative, YouTube tutorials, blog posts), and is linked to prominently as a great resource for anyone looking to set up their online store.
---
Demand generation through inspiration💡
I covered many different beats for the Shopify blog, but focused largely on demand generation and new customer acquisition. I built out a network of content focused on business idea inspiration to attract aspirational entrepreneurs, the largest potential audience for Shopify.
Each piece was mapped to an SEO opportunity and all of them ended up ranking well for their target terms. I followed this up with The BIG List of Business Ideas lead magnet to generate new blog subscribers from the thousands of daily sessions this content was bringing in.
Result: Each piece received anywhere from 300 to 1000+ sessions a day from an audience of aspirational entrepreneurs, collectively bringing in tens of thousands of leads in 2020.
---
Educational content doesn't have to be boring 🥳
Great educational content is in-depth, original, and, most important, fun. When every topic area seems to be saturated with coverage, this is how I rise above today's table-stakes of "in-depth content".
I love diving into topics and exploring them with unfettered curiosity. I conduct interviews with experts, go down research rabbit holes, and often roll up my sleeves and get my hands dirty to learn on behalf of my audience.
Whatever the topic, I aim to create the best damn thing on the internet every single time—because anything less doesn't cut it anymore.
Result: I've had my educational content shared by public figures such as Alexis Ohanian (Serena William's husband and cofounder of Reddit), Bruce Croxon (former Dragon's Den), and Romany Malco (actor and rapper).
---
Product marketing that gets customers hyped 🔥
I've worked on a number of product launches during my time at Shopify, from introducing new sales channels to standalone products like virtual employee Kit. For me, good product marketing content gets customers excited and potential customers interested.  
The best example of my product marketing work was the support I lent to Shopify's AR/VR product line, planning and creating content that would build hype for this exciting new technology.
I worked with multiple stakeholders, including the AR/VR team, designers, and featured customers to shape the narrative throughout the staggered launch of Shopify AR and 3D model support on product pages.
Result: Twitter was abuzz about these launches. You can see from the comment sections on these posts that Shopify merchants were excited too.
---
Side projects—just for fun
I don't aspire to be "just a writer" or "just a marketer". My aim is to become someone who can solve content marketing problems in whatever form they come.
Side projects are a key part of my own development to this end, and I think they're worth including in my portfolio.
I've used these projects to try out various marketing channels, from Facebook advertising to Instagram marketing, as well as practice coding, design, and other creative disciplines outside of just writing.
Lumo Shoes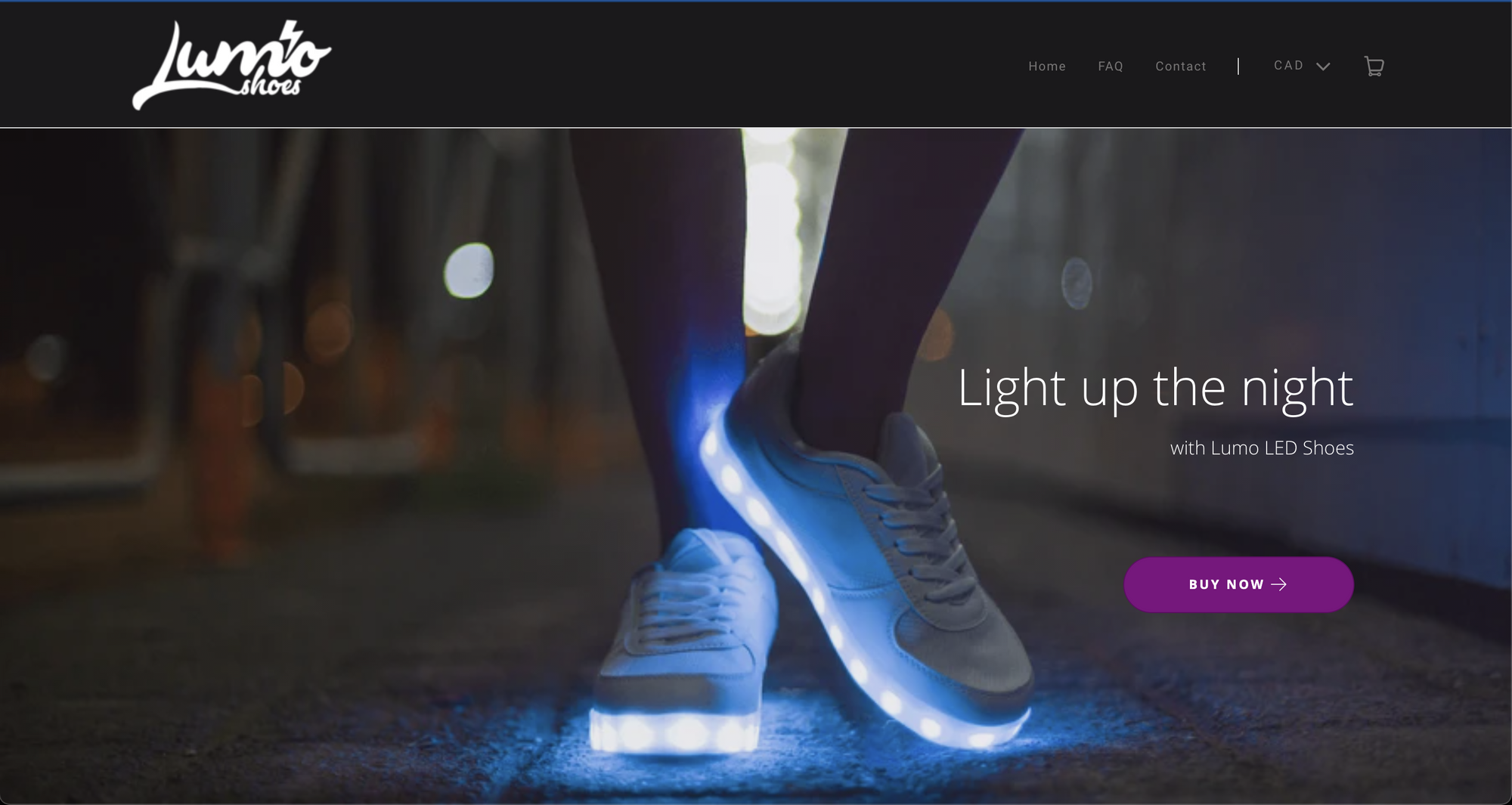 The Tumblr Poet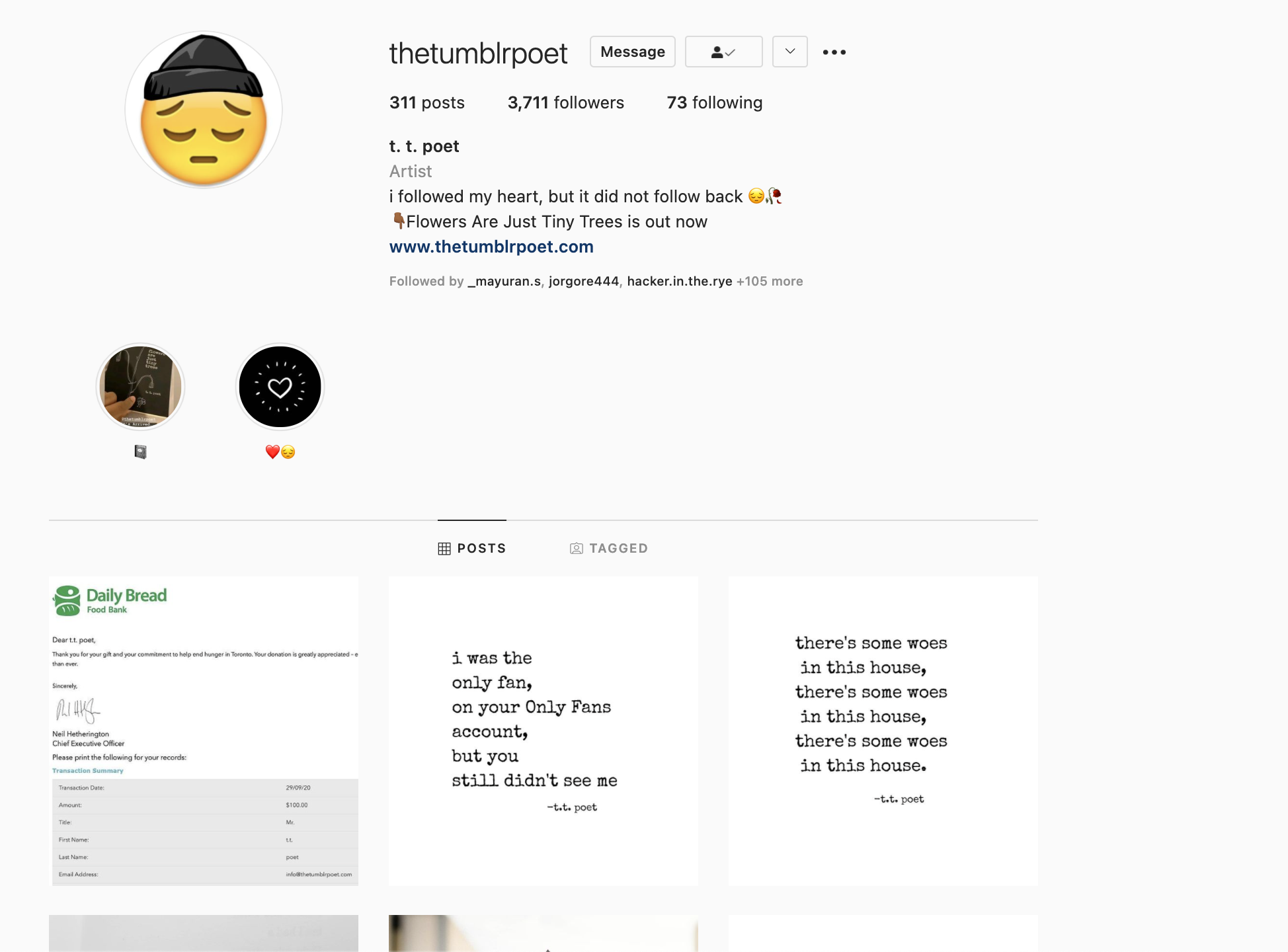 Coding projects
A blog post is just a container for code. Words just happen to be the usual contents. That's why I decided to learn a bit of HTML, CSS, and JavaScript. Here are some of my coding projects.
Percentage Change Calculator
Random Starbucks Order Generator